CORONA VIRUS TEMPORARY CLOSURE
Dear Customer,
We have decided in the best interest of our customers that we shall temporarily close. This decision has not been taken lightly and we appreciate that it may cause inconvenience to you. If you have any queries please do not hesitate in ringing 01736 363134 or emailing sue@alfred-smith.co.uk. We are in unchartered waters and wish everyone a safe passage through this. Thank you for your understanding and look forward to seeing you again soon.
The Directors of Alfred Smith & Son (Penzance) Ltd
Delivery drivers please call 01736 363134
ALFRED SMITH - FUNERAL DIRECTING SERVICES
If you wish to contact our FUNERAL DIRECTOR - Marcus Wilkinson
Please contact us on 01736 363134 or 01736 362592
We offer a personal service and are available 24 hours a day.
Members of NAFD
Company History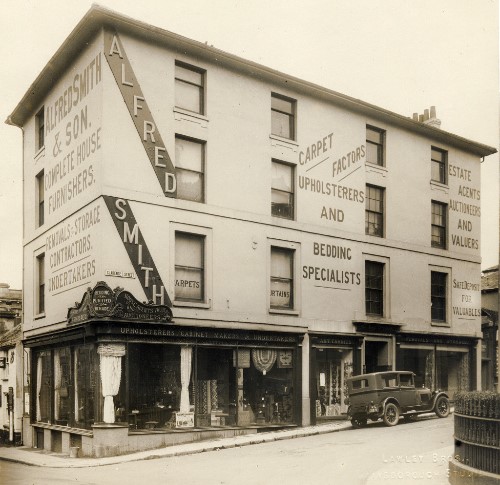 Originally established in 1811 as Olver & Son, the business has traded from its current site since it was built in 1840. In 1885, the business was purchased by the well known, Truro based furnishers, Criddle & Smith. In 1909 Alfred Smith joined the business as Manager and purchased it from the previous owners in 1912. He was joined by his son in 1925 and the business has remained in family ownership ever since. One of the current Directors is a great grand-daughter of Alfred Smith and it is not unusual to find one of his great,great grand-children helping out in the shop.
The business has built its reputation for quality products and service over many years and has survived and prospered through the ever changing fortunes of Penzance and West Cornwall for more than two centuries.
We continue to look to the future completing a large showroom extension in 2011 to coincide with our bi-centenary. This major expansion has increased our floorspace by nearly 40% allowing us to offer an even wider range of products and services to our customers.
In 2012 we celebrated the centenary of family ownership and in 2016 we purchased a new warehouse to modernise the handling of customer orders and enable us to hold a greater stock of products.
---
Alfred Smith & Son (Penzance) Ltd. 31 Clarence Street, Penzance, Cornwall, TR18 2NX Registration: 661550 London, VAT Reg. No: 131 6184 93